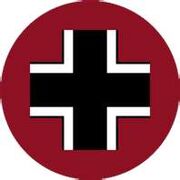 Army Group Latvia
was a
Wehrmacht
army group, which was a mix of German and Latvian troops, that fought during the
Latvian Campaign
against the
Soviet Union
. It was destroyed after the
Battle of Riga
.
Army Group Latvia was founded in 1944 out of the German 26th Army, Latvian 3rd Army, and German 27th Army, which made up approximately 560,000 Axis troops. Army Group Latvia's commander was Ferdinand Schörner in mid-1944, Felix Steiner from 1944 to January 1945, when it was destroyed. Army Group Latvia fought against the 1st Baltic Front, and in the Battle of Malta, the Axis troops were defeated and most of the Army Group's tanks were destroyed, and 36,000 Axis soldiers were killed or wounded. By the end of the invasion of Latvia, only 120,000 troops were left in Army Group Latvia. SS General Felix Steiner took charge of the army group after the end of Army Group Latvia's disastrous campaign, and he led a valiant defense of the remaining cities of Latvia and northern Lithuania. When the Germans launched Operation Vernichtung, the Army Group Latvia spearheaded the advance against the Soviets near Panevezys, and the Axis soldiers fought well at first. However, repeated Soviet offensive ground down the army group's manpower, which it could not reinforce. By the end of the battle, it had become a siege of the Germans, and Steiner was sent back to Germany to help defend the motherland. General Heinrich von Manningheim assumed control of the army group in January 1945, by the time that the army group was on the verge of collapse. The Axis lost all but 35,000 troops; the rest were killed, wounded, or captured. The last 35,000 Germans and Latvians surrendered at Kaunas after traveling there for redirection to Germany, as Manningheim was not supported by any reinforcements.
Community content is available under
CC-BY-SA
unless otherwise noted.